KFI Mechanical Prefers American Standard Heating and Cooling Systems for many home applications. Stay cool and save a comfortable amount of money with American Standard Heating & Air Conditioning's line of Allegiance® air conditioners. Our air conditioners range in efficiency from 13 to 20 SEER — among the highest efficiency ratings in the industry.
Our Allegiance® family offers a wide range of comfort choices, plus exclusive state-of-the-art technology that quietly, meticulously and efficiently conditions your air. Get ready for a level of comfort you and your family may never have experienced before.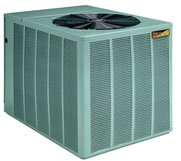 The RUUD® brand has a central air conditioning system that is perfect for your home — at a refreshingly affordable price. Even on the hottest days of the year, you can keep your home cool and comfortable while enjoying low energy costs with a high-efficiency RUUD® brand air conditioner. Don't choose between affordability, durability, and optimum cooling comfort. Install a RUUD® brand air conditioner and get all three — and what we believe to be the best warranty protection in the heating and cooling industry.

A premier leader in the commercial ventilation industry, Captive Air systems integrates the best technology and system designs available in our industry. These quiet comfortable systems are reasonably priced and meet or exceed NFPA guidelines. The Captive Air system is preferred in many restaurants because of their efficiency, availability of specific variations to meet customer needs as well as some local code requirements. This is a system that is time tested and delivers more than what a restaurant expects.

Why Choose KFI?
"The technicians are timely and friendly. Even though I asked the technician many many questions as he worked, he gladly related to me the problems with my system and the options to fix or replace. No sales person or pitch, these technicians KNOW their stuff and are more than willing to share that knowledge with the homeowner."
-Davis and Kathy, Marsh Hawk Plantation
"It was Friday night after five o'clock and the restaurant had one cooler down as well as the deep freeze. Frank (the owner) came out even though it was his birthday and took care of our situation. That was two years ago and we have been happy customers ever since!"
-Chip, General Manager of Saltus, Plums, and Bistro Patois.